Here is a new piece of US visa information that everybody should know. With the new rule, which was posted on the Federal Register and established by the Department of Homeland Security (DHS), US citizens who have spouses, parents or children who are illegal immigrants may no longer be separated from their love ones for a long time.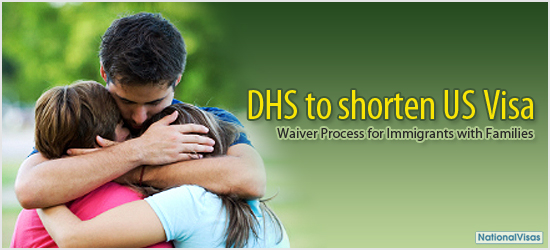 Effective March 4, such illegal immigrants will be able to apply for a provisional unlawful presence waiver while they are still in the US. They would only need to go home to their native countries for a brief period of time to attend immigrant visa interviews. This came after a consideration was also given to the 4,000 comments received by the US Citizenship and Immigration Services (USCIS) which started coming in last April 2012.
To qualify for the visa waiver, the applicants have to be an immediate family member or relative of the sponsor or US citizen. Also, he or she must be able to prove that extreme hardship will be experienced by the US citizen if the waiver is denied.
This US visa info has come a year after the Obama leadership in the US first made the announcement of the Family Unity Waiver. It may be recalled that in the past, any illegal immigrant who left the US may be caught and may become at risk for a three and ten year bar, preventing them to go back to the states for a long time. Also, if they want to apply for waiver, they would have to go back to their country of origin and then wait there for years before they can be reunited with the families. That is if their US visa application gets approved.
"This final rule facilitates the legal immigration process and reduces the amount of time that U.S. citizens are separated from their immediate relatives who are in the process of obtaining an immigrant visa," says Janet Napolitano, Secretary of Homeland Security.
Alejandro Mayorkas, USCIS Director, says that this new rule lets US citizens avoid hardship caused by being away from their loved ones. American families will greatly be affected in a positive way as the time that they have to wait for their reunion will be a lot shorter than before.
If you are ready to apply for this visa waiver, you will need to use the new form to be published by USCIS. The Application for a Provisional Unlawful Presence Waiver will already be using Form I-601A.
"For too long, thousands of immigrants with U.S. citizen family members haven't applied for permanent residency out of fear of being separated from their families. This new rule puts families first and allows immigrants to apply for permanent residency without having to spend months or years away from their loved ones," was the statement released by National Immigration Law Center.