Throughout the United States' history, there has always been an ambivalent feeling toward immigrants, which is reflected in a positive attitude toward groups that have been visible for a century or more, and much more negative attitude toward recent arrivals, especially those with no American visa.
Issues on immigration and US visa application policies and procedures have always had a profound impact, touching on myriad facets of American life that range from the economic and political to the cultural.
Immigration, especially its economic, social, and political aspects, has always since been a cause of controversy in issues regarding ethnicity, economic benefits, jobs for non-immigrants, settlement patterns, impact on upward social mobility, crime, voting behavior and recently, the strict USA visa application process.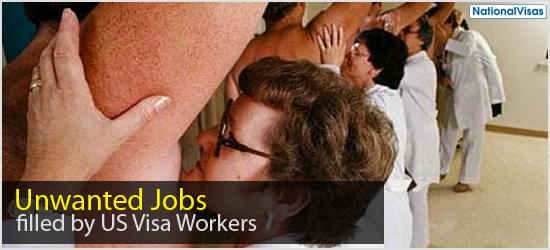 There are even surveys that had indicated that Americans had consistently made a sharp distinction between legal and illegal immigrants, generally viewing those perceived as "playing by the rules", those that have US visa, with more sympathy than immigrants that have entered the country illegally.
Anti-immigrant fever have since fanned across the country, with public opinion on anti-immigrant sentiment is where unemployment is highest, and vice-versa.
With the current high level of unemployment fanning the ever-smoldering anti-immigrant fever, Americans have found it easy to lose sight of the fact that the United States is a nation of immigrants and that throughout history; the legal and illegal status of these immigrants has had more to do with politics than individual worth.
Now, with the demographic landscape of the United States changing, as evidenced by Hampshire College embracing the change by establishing a scholarship dedicated to helping immigrants with no USA visa to receive college degrees.
In a recent article by Boston Globe reporter Peter Schworm, Hampshire College is extending a unique offer to thousands of potential students who do not have a United States visa. They are offering a specific financial aid endowment to defray college tuition costs for undocumented students.
Undeniably, it is now a fact of life in the US that there are many undocumented residents, of which neither legal residents nor undocumented persons can afford to ignore for much longer.
Though there are still many issues raised by the often-nonsensical immigration debate, these can be resolved. American educational institutions should whole-heartedly embrace the idea of creating a Hampshire-like endowment that is capable of providing tangible social mobility for the thousands of undocumented students who just want to get ahead in a country where certain political factions seem content to consign them to membership in a permanent immigrant underclass.
There is now a chance for these American educational institutions to move to the cutting edge of this discussion by setting up their own endowment plan that shows the entire country exactly where it stands when it comes to the problems of continued educational, political and financial disenfranchisement.
However, it goes without saying that there will be limitations as a financial aid endowment is not equivalent to the demonized "quota" system of affirmative action. This is not, as some opponents may claim, a free pass that freely condones the violation of American immigration law. Instead, this is merely a helping hand that provides an incredible opportunity to those bright, undocumented students, who are unlikely to receive much assistance elsewhere.