Planning to travel to the United States? Here are tips on what are the things to do before you travel to the US.
Have all the required travel documents for the country you are visiting, as well as the approved and valid identification for re-entry to the United States. Passports are required for air travel. Visit www.travel.state.gov for country-specific information.
Make sure first that you have all the required travel documents that are approved and valid for entry to the US, passports, US visa as well as valid identification for re-entry to the United States.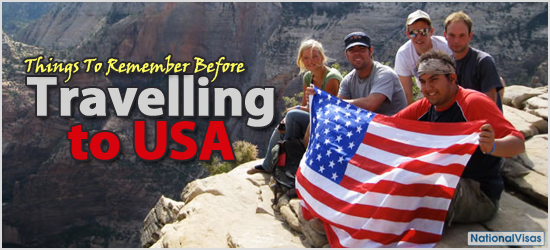 Generally, as a citizen of a foreign country, before traveling to the US, you are required to first obtain a nonimmigrant visa application for the USA for temporary stay or an immigrant visa to the US for permanent residence. There are about 185 different types of application for American visa, of which the type of United States of America visa you must obtain is based on the purpose of your travel and defined by U.S. immigration law.
Also take note that you must go to your closest U.S. visa-issuing post for an interview as this is part of your visa application process. During this interview, expect a Department of State consular officer to review your visa application and supporting documents as well as collect your biometrics, which is up to 10 digital fingerprints and a digital photograph. Since 2004, the Department of Homeland Security's US-VISIT (United States Visitor and Immigrant Status Indicator Technology) program had been collecting biometrics, your digital fingerprints and photographs, to protect you against identity theft and fraud.
If you are a citizen of one of the countries participating in the US Visa Waiver program and intend to visit the US for holiday or short business trip of stays of up to 90 days, make sure that you have an approved Electronic System for Travel Authorization (ESTA) before boarding. It is recommended to apply for ESTA visa to USA at least 72 hours prior to your trip or as soon as an applicant begins making travel plans. Take note, no ESTA for America, no travel to the USA.
For those traveling on a visa, please complete your I-94 form before approaching CBP processing.
If you are one of those pre-approved, low risk travelers, you can make use of the dedicated lanes that are designed to speed through land border crossings so you can save time. You can also register and become a member of Global Entry, a trusted traveler program that enables pre-approved, low-risk travelers to by-pass traditional CBP processing and to enable them to use self-service kiosks, located at 25 airports in the US. However, take note that only U.S. citizens and lawful permanent residents, Mexican nationals, and Canadian citizens and residents through membership in the NEXUS program can avail of this program.
Additionally, citizens of the Netherlands may also use this program under a special reciprocal arrangement that links Global Entry with the Dutch Privium program in Amsterdam.
Also, make sure to have a completed Customs Declaration form (6059b) upon reaching CBP processing. Make sure to declare everything you are bringing from abroad, even those you have bought in a duty-free shop. Take note that things bought abroad for personal use or as gifts may be eligible for duty exemptions but if you are bringing them back for resale, they are not.
Also, be aware not to attempt to bring fruits, meats, dairy/poultry products and/or firewood into the United States without first checking whether they are permitted.
Make sure to know all restrictions on the things that you cannot bring to the US. There are prohibited merchandise which are forbidden by law to enter the U.S. and restricted merchandise which needs special permit to be allowed into the US. By knowing these, you will save time as well as prevent confiscation and wasting.
Finally, bear in mind to build additional time into trips during busy travel seasons and understand that CBP must conduct a thorough inspection of the nearly one million travelers entering the country each day.